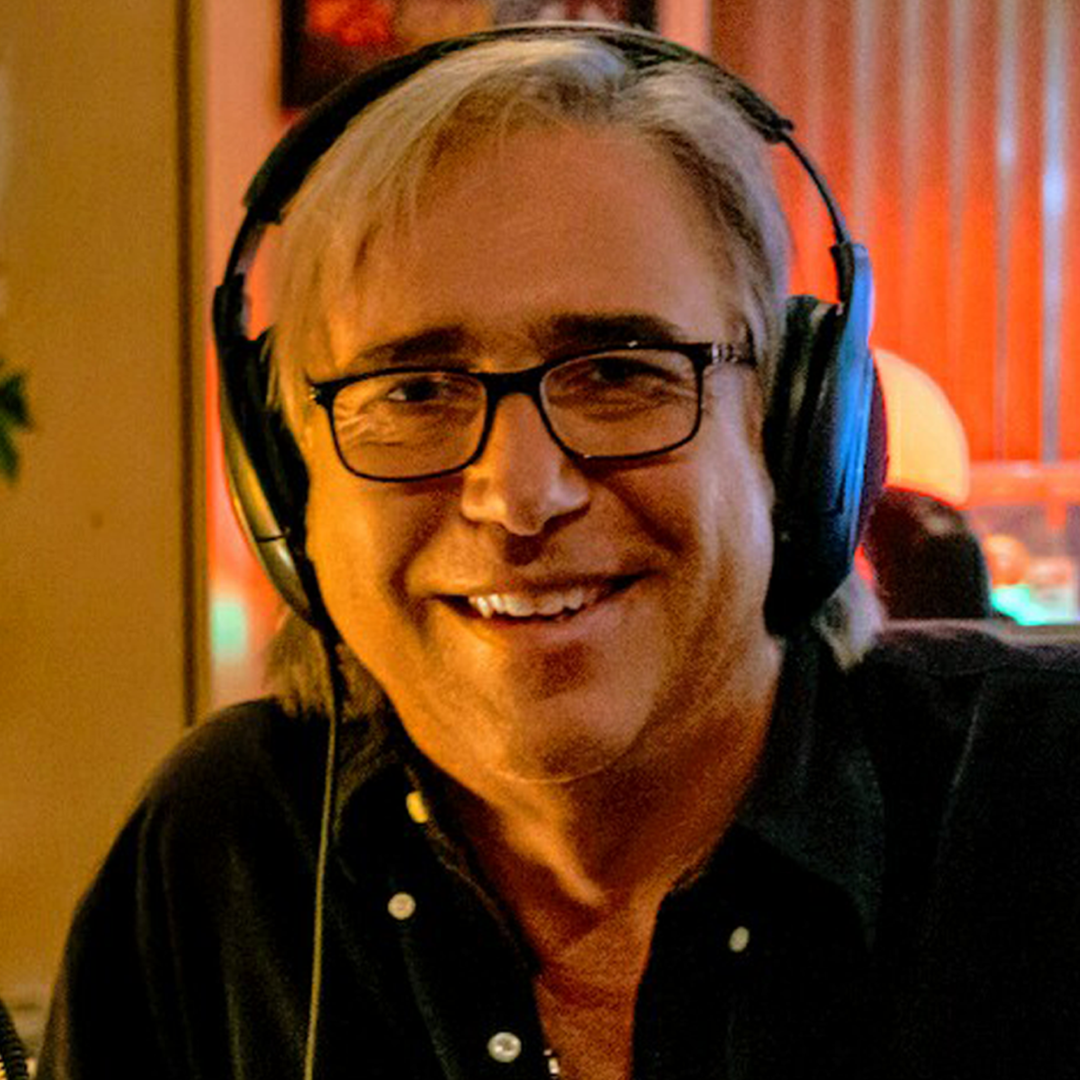 LOS ANGELES, Calif – It's another day, and Chris Carter is preparing for another 15-hour stretch of work. The radio host and music expert – who helms America's longest running Beatles radio show, Breakfast With the Beatles, as well as Chris Carter's British Invasion, both on SiriusXM – probably could use eight days a week to fit in everything he needs to do, but like the rest of us, he's limited to seven.
Carter makes use of every one of those days, as he's committed to the much-beloved Beatles program Monday through Friday on SiriusXM, as well as Sundays on terrestrial station KLOS-FM, while his British Invasion show takes up both weekend days. He painstakingly hand-selects a daily 60-song playlist tailored to specific events of the date, all geared toward educating and sparking discussion among newer and seasoned Beatles fans alike.
This amount of requires dedication, to say the least – as well as an encyclopedic knowledge of the Fab Four's daily doings throughout the past decades. Music facts and tidbits spring to his mind as Carter sorts through the calendar and makes notes for his playlist, a task that still delights him even after a remarkable 19 years of hosting the show.
"I still find it interesting when I read [Beatles facts] back to myself, the same as when I first read them at age 12," says Carter, with a laugh. "Like, 'Instant Karma!?' First song Phil Spector produced for a Beatle.George Harrison's on it, but you can't hear him."
The facts flow automatically after so many years studying the band, but haven't lost a bit of their thrill: "Even describing it now, I get excited."
Carter is indeed living out his dream career, one that took a few twists and turns along the way to eventually land in place. The journey started at a young age – and, of all places, at a strip mall in suburban New Jersey. Carter explains that he had a passion for educating himself about music early on.
"I was the kid listening to T. Rex and David Bowie records. It was all about what you could seek out," he notes. "When I graduated school, I opened a record store in my hometown, and that was a whole other education."
Having had experience managing a big-chain record store, and with a year of college business administration classes under his belt, Carter quickly transformed his independent shop, Looney Tunez, into a hotspot for imports and rarities, and it became the place for avant-garde bands of the era to stop by, with in-store appearances ranging from the Ramones to David Johansen … some even adding a little shock value to the quiet area.
"It was in this little shopping mall, this little bucolic town by a lake," Carter notes. "And the Plasmatics came … in a big Cadillac, and [Wendy O. Williams] had the electrical tape on her, you know," he laughs. "And there's, like, a sewing shop next door. They wanted to get rid of us." The store wasn't going anywhere, at least for a while, but Carter and his friends had other plans brewing. Brainstorming with singer-songwriter and erstwhile Looney Tunez employee John Easdale in the basement of the store, the band Dramarama was formed, launching Carter into the performance era of his career.
Aficionados of the '80s alt-rock scene – and especially anyone who grew up in Southern California listening to the legendary KROQ – are doubtless familiar with the landmark power-pop outfit, for which Carter played bass. Realizing that it would be difficult to run the record store and pursue a band at the same time, Carter shuttered Looney Tunez and by 1982 was enmeshed in Dramarama.
A self-released single captured the attention of a French label, New Rose, much to the band's excitement. "They signed all the bands we liked – the Cramps, the Replacements," Carter recalls.
Dramarama's full-length debut, 1985's Cinema Verite, made its way to Los Angeles radio in grand, if unexpected style – via legendary tastemaker DJ Rodney Bingenheimer, who "found it in a Pasadena record store and started playing it," explains Carter.
The album's fiercely catchy lead single, "Anything, Anything (I'll Give You)," caught on – and then some. "To this day I believe it's the most requested song in L.A. radio," muses Carter. "We felt a little weird because we were on KROQ, which [played] like, Depeche Mode, and we were this guitar band. But, at the same time, they liked all different types of music. That KROQ exposure, we lived off that for years."
The song opened up a route to Los Angeles, where the band would eventually move permanently after playing a memorable show at the 16,000+-capacity Irvine Meadows Amphitheater in nearby Orange County.
"We [had been] in New Jersey playing in strip clubs," explains Carter. "We went to Los Angeles and played one show, at the Roxy." That show led to events-giant Avalon Attractions inviting Dramarama to open for the Psychedelic Furs at Irvine. The band, having no clue what the venue was like, found themselves bowled over upon arriving. "We were like 'Oh my God,'" laughs Carter. "We told our parents, 'We're not coming home.' And we stayed out here for the rest of our lives."
When the group disbanded in 1994, Carter continued in a musical vein, but explored different avenues. "I was always the guy in the band who had the meetings with the manager," he says. "So I started managing bands."
While working with such local notables as the Wondermints, Baby Lemonade and the Negro Problem, Carter additionally decided he wanted to try his hand at a documentary about Bingenheimer, whom he credits with discovering Dramarama. Mayor of the Sunset Strip, created with award-winning director George Hickenlooper, was released in 2003, with a distribution deal second only to that of Michael Moore's Bowling for Columbine. "It took seven years to make, and I did all the music in it," Carter notes.
From there, Carter began to hear his true calling knocking at the door. "I started up my next career, which is in radio. I always wanted to do that," he enthuses. "I went to the Connecticut School of Broadcasting when I got out of high school – before I went to college – just to see if I could get my third-class license. Back then you needed to have a license to be on the radio; now they'll put anybody on the radio!"
After years of being played on the airwaves and even creating a documentary about a famous DJ, Carter finally realized that radio was where he belonged. "My true passion," he states. "I love playing songs for other people. I was that guy who'd make the cassettes for you – you know, 20 songs you should listen to."
He started off giving KROQ a run for their money, hosting The Chris Carter Mess on L.A.'s then-alt-rock competitor Y107. "Weekends, against Rodney," notes Carter. "He hated that!"
Fate then stepped in. In 2001, "One of my favorite shows in Los Angeles, Breakfast With the Beatles, lost its host. She just didn't come on the air one morning, We were all listening to the radio, and there was no DJ."
Unfortunately, the worst-case scenario imagined by listeners had happened. The host, Deirdre O'Donoghue, who helmed the show since 1983, had passed away. As a true legacy to how beloved her work was, however, Carter admits he immediately felt concern for the show's future along with the initial shock. "The first thing you think is, 'That's so sad, I can't believe it,' and the second thing you think is 'What's going to happen to that show?'"
What happened was a fair-and-square resolution that ended, ultimately, in Carter's favor. "They had a contest – five or six different DJs came in over the summer, and at the end of the summer they were going to have listeners take a vote. I won that contest and I've been there ever since. Going on 19 years now!"
Carter's 19 years on the show have been filled with extraordinary focus, working to keep a highly diverse – and sometimes highly opinionated – audience happy and engaged. "You gotta walk the right line. You have hardcore listeners who know every detail of what you're saying. And at the same time, you have casual listeners that might have the Beatles' 1 album, and that's the only album they have by them. So you have to walk that line because you're talking to both of them. You don't want to insult one or over-educate the other," he explains.
A healthy dose of humor is Carter's special secret to a successful overall program. "The Beatles were very funny guys," he observes. "If you notice, in many of their interviews, they very rarely talked about music. They're very sarcastic. Humor is a big part of the Beatles experience.
"And, you don't want to 'genuflect' too much," Carter chuckles. "Because that's the way they are, and that's the way they like it. They don't want to be revered too much."
Indeed, Carter's pleasantly informative, upbeat hosting is inspired by his encounters with the Beatles over the years. He's interviewed all of them save John Lennon (including Pete Best) and notes that the most striking thing about the lads – particularly Paul McCartney and Ringo Starr, whom he's had the pleasure of meeting multiple times – is their tireless enthusiasm for what they do.
"The thing that's always been the case with the Beatles, especially Paul and Ringo, is that they were genuinely pleased to be doing what they were doing. And it still comes across that way," he adds. "Think about how many times they've done the drill … they're still upbeat and still so into it. They make you feel like they care about you, and that's always been their charm."
Sounds a little like Carter himself? "Hey, as a young boy, if you told me that a Beatle would even know my name, that would be enough for me. I could have just ended it after that," he smiles.
Carter, who somehow manages to balance family time with his demanding radio schedule (he's married with a teenage daughter), is currently booking appearances, including several in-person dates at Southern California's Casino Morongo in Cabazon.